Global Operations
Organizational Structure of the Company
The following chart shows the organizational structure of the Company as of December 31, 2020 and its principal operating subsidiaries, including affiliate ownerships, and the percentage of ownership interest and voting power in each case. The location of the headquarters of each company is indicated in parentheses under the company's name ("T" for Thailand, "C" for China or Hong Kong, "S" for Singapore and "A" for Australia).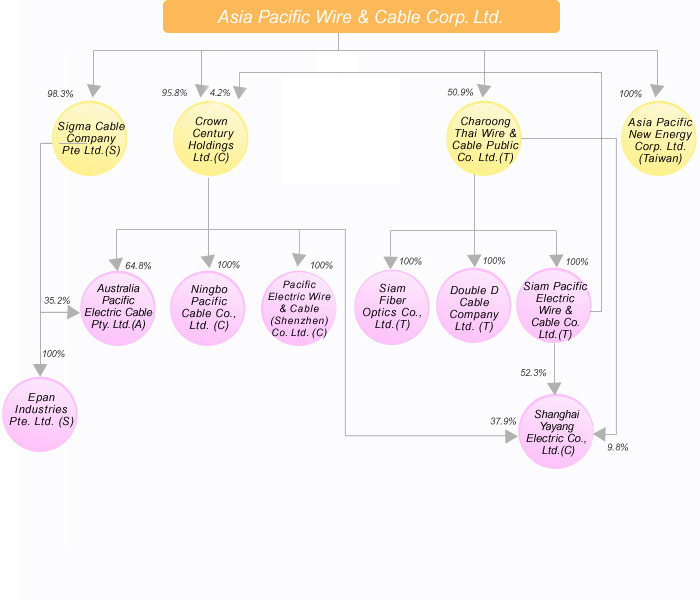 APWC's primary facilities are briefly described below:
Location

Company

Products

Brisbane, Australia

Australia Pacific Electric Cables

Power cable

Singapore

Sigma Cable

Power cable, SDI project engineering

Bangkok, Thailand

Charoong Thai

Telecommunications cable, power cable

Bangkok, Thailand

Siam Pacific

Telecommunications cable, enameled wire

Shenzhen, China

Pacific Electric Wire & Cable (Shenzhen)

Enameled wire

Shanghai, China

Shanghai Yayang

Trading

Yanggu,
China


Shandong Pacific Rubber Cable

Rubber cable

Taipei, Taiwan

Asia Pacific New Energy Corp. Ltd.

Renewable energy
All of the Company's facilities in Bangkok, Singapore, Brisbane and China use production processes and equipment of international standard imported from Europe, the United States, Taiwan, and Japan.