History and Development of the Company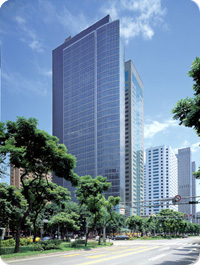 Asia Pacific Wire & Cable Corporation Limited was incorporated on September 19, 1996 as a Bermuda exempted company limited by shares and incorporated under the Bermuda Companies Act 1981, as amended (the "Companies Act"). The address of APWC's principal office is Room B, 15th Floor, No. 77, Sec. 2, Dunhua South Road, Taipei, 106, Taiwan, and its telephone number is +886 2-2712-2558. Puglisi & Associates, located at 850 Library Avenue, Suite 204, Newark, Delaware 19711, is APWC's agent for service of process in the United States.
APWC is a holding company that operates its business through operating subsidiaries, principally located in Thailand, China, Singapore and Australia. The Company is principally engaged in the manufacture and distribution of telecommunications (primarily copper, but also fiber optic), power cable, and enameled wire products in the Asia Pacific region, primarily in Thailand, China, Singapore and Australia. The Company also provides project engineering services to certain customers.
The following chart sets forth the organizational structure as of December 31, 2020 of APWC and its principal operating subsidiaries, as well as the percentage of ownership interest and voting power in each case. The location of the headquarters of each company is indicated in parentheses under the company's name ("T" for Thailand, "C" for China or Hong Kong, "S" for Singapore and "A" for Australia).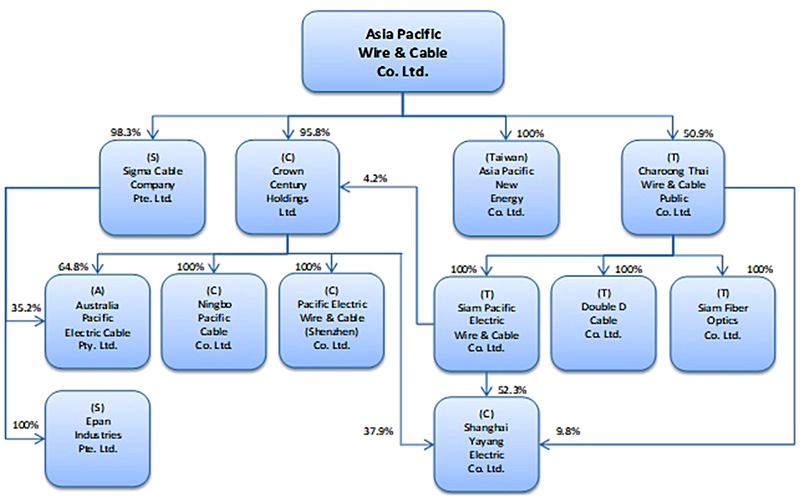 North Asia Region
During 2020, the Company's principal operations in North Asia were conducted through four business entities – Shanghai Asia Pacific Electric Co., Ltd. ("Shanghai Yayang"), Crown Century Holdings Limited ("CCH HK"), Pacific Electric Wire and Cable (Shenzhen) ("PEWSC"), and Asia Pacific New Energy Corp. Ltd. ("APNEC"). The operating entities include Shanghai Yayang, formerly known as Shanghai Pacific Electric Co., Ltd., a subsidiary in Shanghai incorporated in June 1998 to manufacture enameled wires. The Company's effective holding in Shanghai Yayang is 68.75%. Shanghai Yayang, which had previously produced enameled wires, ceased production by the end of October of 2019 and has been restructured as a trading company in Shanghai that supplies mainly transformer, motor and coil manufacturers in the eastern part of China.
The Company has an effective holding of 97.93% (including holdings through Siam Pacific) of the capital stock of CCH HK, a Hong Kong registered company, and its wholly-owned subsidiary company, PEWSC. PEWSC manufactures enameled wires for electric, video and audio products for the south China market.
Ningbo is currently a dormant entity. The Company continues to own the equity of Ningbo, which still holds its government-granted business license. The Company has disposed of all of the buildings and most of the equipment and the land use rights for the property where Ningbo's operations had been situated. The principal machinery utilized at the Ningbo facility has either been sold or stored at other operating facilities of the Company.
The Company established a new entity, APNEC, in Taipei City on October 26, 2018 for new renewable energy business. APNEC seeks to develop an alternative energy business in Taiwan by availing itself of incentives provided by the Taiwan energy authority for the expansion of "green" energy alternatives. This project remains at a development-stage and has not generated any revenues to date.
Thailand Region
The Company's Thai operations are conducted through Charoong Thai, Siam Pacific, Double D Cable Company Ltd. ("DD") and Siam Fiber Optics Co. Ltd. ("Siam Fiber Optics"). Charoong Thai and Siam Pacific are the Company's principal entities in Thailand.
Charoong Thai is a publicly-traded Thai corporation, the shares of which are listed on the Stock Exchange of Thailand ("SET"). It manufactures aluminum and copper electric wire, medium and high voltage power cables and telecommunications cables. It has subsidiaries and affiliates in the businesses of fiber optic cable manufacturing and telecommunication and network services. Charoong Thai was established in Thailand in 1967 as a limited public company. As of December 31, 2020, the Company effectively owned 50.93% of the issued and outstanding shares of Charoong Thai. The Company's present intention is to maintain majority ownership of the voting securities of Charoong Thai. The board of directors of Charoong Thai may authorize the issuance of additional shares of common stock of Charoong Thai. The Company has preemptive rights to purchase its pro rata share of any additional authorized shares, less amounts reserved for Charoong Thai's directors, officers or employees. In the event the board of Charoong Thai decides to cause it to issue additional shares, the Company may decide not to exercise the Company's preemptive rights, in which case its interest may be diluted.
Siam Pacific was established in 1988 as a joint venture between PEWC and Italian-Thai Development Plc. Siam Pacific is now a 100%-owned subsidiary of Charoong Thai and focuses on the manufacture of telecommunications cables, and enameled wires.
Rest of the World ("ROW") Region
The Company's ROW region currently consists of its Singapore and Australian operations.
The Company's Singapore operations are principally conducted through Sigma Cable Company (Private) Limited ("Sigma Cable"), an indirectly 98.3%-owned subsidiary of the Company. The Company believes that Sigma Cable is one of the major suppliers of power cable products in Singapore. Sigma Cable manufactures and sells a range of low voltage power cable products, used mainly in infrastructure projects and commercial and residential developments. Sigma Cable is the exclusive distributor in Singapore of medium and high voltage wire and cable products manufactured by PEWC. It is also the distributor for general wires manufactured by a third-party supplier.
Sigma Cable also has project engineering operations in Singapore to supply, deliver and install (referred to as "SDI") primarily medium and high voltage cables to power transmission projects. While the Company currently obtains its supply of medium and high voltage power cables for its SDI operations from PEWC, other suppliers are also available if necessary.
Sigma Cable owns 100% of the capital stock of Epan Industries Pte. Ltd. ("Epan") a Singaporean Company. Currently, Epan is acting as the distributor of Sigma Cable products and those of other third party suppliers.
The Company's business in Australia is conducted by Australia Pacific Electric Cable Pty. Ltd. ("APEC"). The Company's indirect ownership interest in APEC is 98.06%. APEC is located near Brisbane and is one of three major wire and cable manufacturers in Australia. APEC possesses a substantial marketing and distribution infrastructure with a network of sales offices and warehouses in the cities of Brisbane, Sydney, Melbourne and Perth.