Low Smoke Free Halogen Cable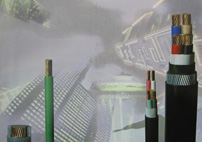 LOW SMOKE FREE HALOGEN CABLE
General halogen (Chlorine, Fluorine, etc) materials have been widely applied on wires & cables because of its excellent properties on chemical resistance, oil resistance, flame retardant, and low price etc.. However, the dense choking smoke and toxic gas (HCl, HF, etc..) which cause obstruction to the personnel evacuation and rescue work during fire accident and also cause fatal accident and corrosion to mechanical equipment will be created during burning.
More and more facts like "King's Cross fire on the underground rail system in London" can prove this. Besides complex materials is not self-decomposable, it causes air pollution during burning. Due to the rise of environmental consciousness, people have gradually focused on the R&D of non-polluted materials and so Low Smoke Free Halogen Materials were developed to solve this problem.
PEWC continues keeping its style and faith to research and successfully develop Low Smoke Free Halogen Cable. For keeping safe society and clean living space, we ask respectfully to our both old and new acquaintances to choose it.
Characteristics of Low-Smoke-Free-Halogen(LSFH)
LOW SMOKE EMISSION :

| Material | Smoke Density (#) |
| --- | --- |
| PVC | 350 |
| Polychloroprene | 345 |
| Chlorosulfonated Polyethylene | 360 |
| Natural Rubber | 365 |
| LSFH | 100 |

# The Test result is measured according to ASTM E662 with flaming mode for 4 minutes on the Smoke Density Chamber.

As the result shows, LSFH produced very low smoke density as compared with PVC (reduced to 30% of that of PVC). Besides, the color of smoke is very light and will not cause pollution and obstruct the view.



FREE FROM HALOGENS:
Toxic Gas (HCl or HF) will be emitted from halogen material during burning, If the HCl content in atmosphere exceeds over 1300ppm within a very short time. It will cause lethal effect to animal.

| Material | Acid Gas Emission (HCl mg/g ) |
| --- | --- |
| PVC | 200~300 |
| Flame Retardant PE | 150~200 |
| Polychloroprene | 200~300 |
| LSFH | 0 |

# Acid Gas Emission Test is accordance with IEC 754-1
As the results shows, no HCl were emitted from LSFH material, so it will not cause any damage to human bodies or equipments



EXCELLENT FLAME RETARDANCY:
Flame retardancy is considered to avoid and postpone the spread of fire during fire accident so as to prevent expanding and reduce the disaster.
The comparison of LSFH and other materials as shown as follows:

| Material | Oxygen Index |
| --- | --- |
| PVC | 33 |
| Polychloroprene | 32 |
| XLPE | 18 |
| LSFH | 34 |

# Oxygen-Index O.I. is measured according to ASTM D 2863, Non-combustible materials: O.I.≧21, Self-extinguishable materials: O.I.≧27

GENERAL DATA (Comparison with PVC):

| Material Test Item | LSFH | PVC |
| --- | --- | --- |
| Tensile Strength(kgf/mm²) | 0.8 | 1.0 |
| Elongation(%) | 100 | 100 |
| Aging Condition(℃/hours) | 100/48 | 100/48 |
| Retention of Tensile Strength(%) | 75 | 85 |
| Retention of Elongation(%) | 65 | 80 |
| Oil Immersion Condition(℃/hours) | 70/4 | 70/4 |
| Retention of Tensile Strength(%) | 80 | 80 |
| Retention of Elongation(%) | 65 | 60 |
| Volume Resistivity(Ω-cm) | 1015 | 1014 |
| Flame Retardancy | IEEE383及 IEC 60332-3 | UL VW-1 |
Applications of Low-Smoke-Free-Halogen (LSFH)
Feature of LSFH Insulation :



Excellent Heat Resistance, able to withstand 90℃ on continuous operating condition
Excellent Electrical Properties, Volume Resistivity is higher than 1015Ω-cm
Excellent Oil Resistance
Excellent Flame Retardant, successfully passed the flame test of IEEE 383 (Vertical Tray Flame Test)
Low Smoke Density, Free Halogen

Feature of LSFH Outer-sheath :



Physical Properties are superior to PVC
Excellent Heat Resistance, able to withstand 90℃ on continuous operating condition
Excellent Oil Resistance
Excellent Flame Retardant, successfully passed the flame test of IEEE 383 (Vertical Tray Flame Test)
Low Smoke Density, Free Halogen

Application Fields of LSFH Cable :



General Indoor Wiring
Automobile Wiring
Lead Wire
High & Low Voltage Transmission & Distribution Wiring
Control Panel Wiring
Heat Resistance/Fire Resistance Cable
Shipboard Cable
Datasheet of Low Smoke Free Halogen Wire & Cable