Special Enamelled Wire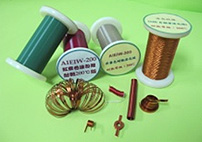 Self-Lubricating Enamelled Wire
Responding to the significant improvement of winding process technology in recent years, resulting the customers' special requirement for the enameled wire film quality and the high-speed winding; also develops the better lubrication quality for the enamelled wire coating.

Self-lubricating enamelled wire structuring with some special self-lubrication material overcoat upon the outer layer of its film, it makes the wire a lower friction coefficient and better scrape-resistance; not only solving the high-speed winding problem, but also obtaining a better quality of the coils.
Product Name
Product code
Thermal class
Size
Polyester Overcoat Polyamide Self-Lubricating Enamelled Wire
SFNPL☆
180℃
φ0.10 ~ 2.20mm
SS-NY(U)☆
Polyester overcoat polyamide Self-Lubricating Enamelled Wire
SS-Fu☆
200℃
φ0.10 ~ 5.00mm
AIEIW-300☆
Polyamide-imide Self-Lubricating Enamelled Wire
AIPL
220℃
φ0.10 ~ 2.20mm
Polyimide Self-Lubricating Enamelled Wire
MLPL
240℃
φ0.40 ~ 2.60mm
Polyester (imide) overcoat polyamide-imide Self-Lubricating Enamelled Wire
PALWu ☆
200℃
φ0.50 ~ 1.40mm
PALW ☆
Remarks:☆ is certificated by UL (UL File No. E84081)
Introduction of Features
Being suitable for high speed coil-winding machine, thanks for its low friction coefficient and better scrape-resistance against the rubbing.
Excellent coil-insertion performance with higher space factor, improving the motor efficiency.
Excellent coil-taping performance, saving the manufacturing process time.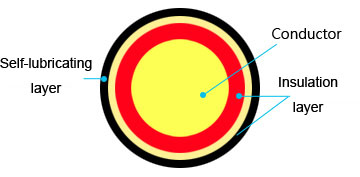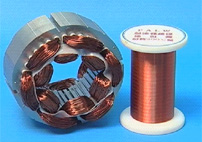 Comparison of relevant Characteristic
Item
Product code
SS-NY
AIEIW-200
PALW
Friction coefficient
0.13~0.16
0.10~0.13
<0.08
Winding-ability
○
○
◎
Coil-insertion
○
○
◎
Scrape-resistance
○
◎
◎
Refrigerant resistance
○
◎
◎
Winding scrap
△
○
◎
Coil productivity
80
100☆
120
Space factor
100
100☆
110
☆ Calculation is based on the AIEIW-200(100) wire ◎ Excellent ○ Good △ Inferior
Applications
The PALW enamelled wire is specially suitable for the R-22, as well as for the environmental refrigerants like the R-134a, R-407c, R-410a, with general production range of φ0.50-1.40mm; used for the compressor in air-conditioner, refrigerator, dehumidifier and other house-application devices etc.
Main application and Referred standard of Enamelled wire
Technical Data of Enamelled Wire