F/S-STAL Cable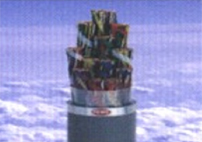 Application
It is sutiable for trunking or feeding line between central offices and subscribers.
Construction
FOAM/SKIN POLYETHYLENE INSULATED STALPETH SHEATHED CABLES (F/S-STALPETH)

1
Cable core Conductor: Solid annealed copper Insulation: Foam-Skin polyethylene Layering - Color polyester tape binder.
2
Wrapping: Mylar tape, Non-woven tape and Non-woven water blocking tape.
3
Shield: Corrugated aluminum tape.
4
Armour: Steel tape with anti-corrosion compound.
Property
Foam/skin polyethylene insulation with better electrical properties.
Air filled with lighter weight.
The cable is flexible and easy to install.
Specification
0.4mm ; 0.5mm ; 0.65mm data sheet
Conductor diameter (mm)
Pairs(P)
Insulation Nom. (mm)
Cable core approx. (mm)
Laminated sheath thickness Nom. (mm)
Overall diameter approx. (mm)
Cable approx (kg/m)
Cable length (m)
0.4
400
0.11
26
1.5
42
3.09
500
600
31
1.6
47
3.95
500
800
35
1.8
55
5.32
250
1000
40
1.9
60
6.17
250
1200
43
2.0
64
7.07
250
1400
47
2.1
67
7.87
250
1600
50
2.2
71
8.64
250
1800
52
2.3
73
9.36
250
2000
54
2.4
75
10.07
250
2200
57
2.5
78
10.80
250
2400
59
2.5
80
11.50
250
2600
61
2.6
82
12.15
250
2800
64
2.7
86
12.96
250
3000
66
2.8
88
13.70
250
3200
68
3.0
90
14.43
250
0.5
400
0.13
31
1.6
48
3.96
250
600
38
1.8
57
5.77
250
800
42
1.9
62
6.94
250
1000
48
2.1
68
8.19
250
1200
53
2.3
73
9.46
250
1400
57
2.5
79
10.60
250
1600
60
2.5
82
11.68
250
1800
63
2.6
85
12.72
250
2000
66
2.8
88
13.79
250
2200
69
3.0
91
14.89
250
2400
72
3.0
94
15.86
250
0.65
400
0.15
38
1.8
58
6.09
250
600
47
2.1
67
8.16
250
800
53
2.3
73
9.97
250
1000
59
2.5
80
11.83
250
1200
65
2.8
86
13.64
250
1400
70
3.0
92
15.50
250
Electrical properties
Conductor resistance (Ω/km)
0.4mm:nom. 139.0、max. 147.5
0.5mm:nom. 88.7、max. 93.5
0.65mm:nom. 52.5、max. 56.5
Dielectric strength
D.C. 500V/1 min. or A.C. 350V/1 min., the cable shall be normal.
Insulation resistance
min. 5,000MΩ-km
Mutual capacitance
nom. 50nF/km , ave. 50±5nF/km
Near end cross-talk (40KHz)
(1) The second worse value of each unit is not less than 58.5dB, the minimum value of each unit which is not less than 50dB allows only one.
(2) The minimum average of each reel is not less than 62dB.
(3) The total average for all units of each reel is not less than 66dB.

Far end cross-talk(160KHz)
(1) m-1.28×S≧55dB/km above
(2) Individual minimum value is not less than 38dB/km.
m: average , S: standard deviation
Spark test of sheath
D.C. 3000V/1min. or A.C. 2000V/1min. ,the cable shall be normal.
Pressure of air filled
600±100g/cm2 (8.53±1.42PSI), above 4hours, The measured value of Dew point shall be under -10℃