Special Enamelled Wire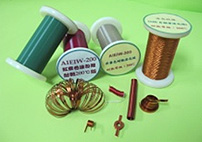 Self-bonding Enamelled Wire
Self-bonding enamelled wire is named for its extra self-adhesive coating on the general enamelled wire insulation film, and this coating characteristic could be various for customer's different production needs; the normal methods of bonding can be solvent bonding, hot-air (heat oven) bonding and heat-resistance bonding. Thanks for its characteristic to retain the specific shape of the coil without loose while the bonding layer holding the fixed form after the proper dissolving or heating. Its application is very wide, such as speaker's voice coil, loudspeakers coil, IF transformer, high frequency deflection yoke, induction stove coils, television yoke, sealed motor, deep-water motor, clutch coil, automotive ignition motors, brake coil and motorcycle ignition coil ...etc.
Product Name
Product code
Thermal class
Size
Polyurethane Overcoat Self-bonding Enamelled Wire
DD-B
130℃
φ0.30 ~ 1.00mm
DDF-B
155℃
Polyurethane overcoat NY and Self-bonding Enamelled Wire
DD-NY-B
130℃
φ0.30 ~ 1.00mm
Polyamide-imide overcoat Self-bonding Enamelled Wire
AIB
220℃
φ0.07 ~ 1.60mm
AHB
220℃
φ0.25 ~ 1.60mm
Remarks:☆ is certificated by UL (UL File No. E84081)
The advantages of self-bonding enamelled wire
Reduce the impregnating process time and reduce the manufacture costs.
Reduce the impregnating material costs and the cost for its stock management.
No environmental problem of waste air or VOC emission.
The entire coil adhesion quality can be very uniform from the coil inside to outside.
Structure and Methods of Bonding for Self-bonding enamelled wire
Structure
Description of features
Methods of Bonding
Product code
Self-bonding enamelled wire is coated by some thermoplastic or thermosetting material on its insulation film, baked to become a wire with self-adhesive function.
Solvent Bonding
Using the solvent function to uniformly dissolve the bonding layer, and after the solvent evaporates; the wire becomes adhesive itself.
DD-B、DD-NY-B、DDF-B、DDF-NY-B、AIB
Regarding to various characteristics of the heat-resistance and bonding films, our company develops and combines many kinds of self-bonding enamelled wire to satisfy customers' different methods & selections.
Hot air (heat oven) Bonding
Using the heat of hot air, makes the bonding layer reach its melting temp to move uniformly, and after the cooling; the wire becomes adhesive itself.
AIB、AHB、 PALW-SB
The self-bonding enamelled wire selection will be recommended to consider the wire thermal class as well as the method of bonding.
Heat resistance Bonding
Using the heat form the coil-resistance via proper electricity, makes the bonding layer reach its melting temp to move uniformly, and after the cooling; the wire becomes adhesive itself.
AIB、AHB、 PALW-SB
Main application and Referred standard of Enamelled wire