CV Type Coaxial Cable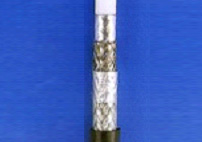 Application
Applied to RF,CATV systems and instrument.
Construction
CV Type Coaxial Cable

1
Inner conductor-Annealed copper wire,tinned copper or silver-coated copper wire or copper clad steel wire.
2
Dielectric-Solid polyethylene or foam polyethylene.
3
Shielding-Sealed laminated aluminum foil.
4
Outer conductor- Braiding with annealed copper wire, silver-coated copper wire or tinned annealed copper wire.
5
Sheath-Polyvinyl chloride.
Property
Characteristic impedance including 50 ohm and 75 ohm.
Outer conductor can shield RF noise.
Transmission frequency up to 1GHz.
Temperature grade over 90℃.
Standard complies with JIS-C-3501.
Specification
Construction
Type Number
Inner conductor
Dielectric Core Diameter
Outer conductor
PVC Sheath
Approx. Weight
Inner Braiding
Outer Braiding
Nominal Thickness
Overall Diameter
O.D Tolerance
Details
Diameter
Diameter
Details
Diameter
Details
Diameter
No./mm
mm
mm
C/N/mm
mm
C/N/mm
mm
mm
mm
±mm
kg/km
1.5C-2V
*1/0.26
0.26
1.6
16/5/0.10
2.1
-
-
0.4
2.9
0.4
13
2.5C-2V
1/0.4
0.4
2.4
16/6/0.12
3.0
-
-
0.5
4.0
0.5
25
3C-2V
1/0.5
0.5
3.1
16/6/0.14 or 24/5/0.14
3.8
-
-
0.8
5.4
0.5
42
3C-2VCS
*1/0.5
0.5
3.1
16/6/0.14 or 24/5/0.14
3.8
-
-
0.8
5.4
0.5
42
3C-2VS
7/0.18
0.54
3.1
16/6/0.14 or 24/5/0.14
3.8
-
-
0.8
5.4
0.5
42
5C-2V
1/0.8
0.8
4.9
16/8/0.14 or 24/7/0.14
5.6
-
-
0.9
7.4
0.5
74
5C-2W
1/0.8
0.8
4.9
24/7/0.14 or 16/8/0.14
5.6
16/8/0.14 or 24/7/0.14
6.3
1.0
8.3
0.5
110
7C-2V
7/0.4
1.2
7.3
24/8/0.18
8.2
-
-
1.1
10.4
0.5
140
10C-2V
7/0.5
1.5
9.4
24/10/0.20
10.4
-
-
1.3
13.0
0.6
220
10C-2W
7/0.5
1.5
9.2
24/10/0.20
10.2
24/10/0.20
11.2
1.5
14.2
0.6
320
20C-2V
1/2.9
2.9
19.0
32/10/0.26
20.3
-
-
1.9
24.1
0.6
730
1.5D-2V
7/0.18
0.54
1.6
16/5/0.10
2.1
-
-
0.4
2.9
0.4
14
2.5D-2V
1/0.8
0.8
2.7
16/7/0.12
3.3
-
-
0.5
4.3
0.5
35
3D-2V
7/0.32
0.96
3.0
16/6/0.14 or 24/5/0.14
3.7
-
-
0.8
5.3
0.5
44
3D-2W
7/0.32
0.96
3.0
16/6/0.14 or 24/5/0.14
3.7
16/6/0.14 or 24/5/0.14
4.4
1.0
6.4
0.5
75
5D-2V
1/1.4
1.4
4.8
16/8/0.14 or 24/7/0.14
5.5
-
-
0.9
7.3
0.5
80
5D-2W
1/1.4
1.4
4.8
16/8/0.14 or 24/7/0.14
5.5
16/8/0.14 or 24/7/0.14
6.2
1.0
8.2
0.5
110
8D-2V
7/0.8
2.4
7.8
24/8/0.18
8.7
-
-
1.2
11.1
0.5
180
8D-2W
7/0.8
2.4
7.9
24/8/0.18
8.8
24/8/0.18
9.7
1.4
12.5
0.6
260
10D-2V
1/2.9
2.9
9.7
24/10/0.20
10.7
-
-
1.2
13.1
0.6
260
20D-2V
1/0.6
6.0
20.8
32/10/0.26
22.1
-
-
2.0
26.1
0.6
950
*Note:Copper clad steel wire
ELECTRICAL PROPERTIES
Type Number
Characteristics impedance
Attenuation (10MHz , Nom)
Capacitance (1KHz , Nom)
Velocity Propagation Nom
Insulation Resistance (Min)
Conductor Resistance (20℃ Max)
Dielectric Strength (AC)
Ω
dB/km
nF/km
%
MΩ/kms
Ω/km
kV
1.5C-2V
75±3
96
69±4
66±2
1,000
968
1
2.5C-2V
75±3
52
69±4
66±2
1,000
145
1
3C-2V
75±3
42
67±3
66±2
1,000
91.4
1
3C-2VCS
75±3
42
67±3
66±2
1,000
256
1
3C-2VS
75±3
43
67±3
66±2
1,000
100
1
5C-2V
75±3
27
67±3
66±2
1,000
35.9
1
5C-2W
75±3
27
67±3
66±2
1,000
35.9
1
7C-2V
75±3
22
67±3
66±2
1,000
20.7
1
10C-2V
75±3
18
67±3
66±2
1,000
13.1
1
10C-2W
75±3
18
67±3
66±2
1,000
13.1
1
20C-2V
75±3
74
67±3
66±2
1,000
2.67
5
1.5D-2V
50±2
85
104±5
66±2
1,000
110
0.3
2.5D-2V
50±2
45
100±4
66±2
1,000
35.9
1
3D-2V
50±2
46
104±4
66±2
1,000
33.3
1
3D-2W
50±2
46
100±4
66±2
1,000
33.3
1
5D-2V
50±2
27
100±4
66±2
1,000
11.7
1
5D-2W
50±2
27
100±4
66±2
1,000
11.7
1
8D-2V
50±2
20
100±4
66±2
1,000
5.13
1
8D-2W
50±2
20
100±4
66±2
1,000
5.13
1
10D-2V
50±2
14
100±4
66±2
1,000
2.67
1
20D-2V
50±2
6.6
100±4
66±2
1,000
0.662
5