RG Type Coaxial Cable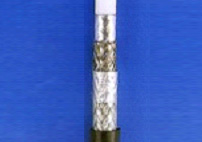 Application
Applied to RF,CATV systems and instrument.
Construction
RG Type Coaxial Cable

1
Inner conductor-Annealed copper wire,tinned copper or silver-coated copper wire or copper clad steel wire.
2
Dielectric-Solid polyethylene ,foam polyethylene or polyethylene filament thread within a tube of solid polyethylene.
3
Shielding-Sealed APA tape
4
Outer conductor- Braiding with annealed copper wire, silver-coated copper wire or tinned annealed copper wire.
5
Sheath-Polyvinyl chloride or polyethylene.
Property
Characteristic impedance including 50 ohm, 75 ohm and 93 ohm.
Outer conductor can shield RF noise.
Transmission frequency up to 1GHz.
Temperature grade over 90℃.
Standard complies with MIL-C-17.
Specification
Construction
Type Number
Inner conductor
Dielectric core
Material
detail
Material
Dia.
No/mm
mm
RG-6/U
CP
1/0.724
A
4.7
RG-7/U
ACu
1/0.914
AB
6.35
RG-8/U
ACu
7/0.724
A
7.24
RG-8A/U
ACu
7/0.724
A
7.24
RG-10/U
ACu
7/0.724
A
7.24
RG-10A/U
ACu
7/0.724
A
7.24
RG-11/U
TCu
7/0.404
A
7.24
RG-11A/U
TCu
7/0.404
A
7.24
RG-12/U
TCu
7/0.404
A
7.24
RG-12A/U
TCu
7/0.404
A
7.24
RG-17/U
ACu
1/4.78
A
17.3
RG-19A/U
ACu
1/6.35
A
23.1
RG-58/U
ACu
1/0.813
A
2.95
RG-59/U
Cp
1/0.643
A
3.71
RG-59A/U
Cp
1/0.643
A
3.71
RG-59B/U
Cp
1/0.584
A
3.71
RG-62/U
Cp
1/0.643
AB
3.71
RG-62A/U
Cp
1/0.643
AB
3.71
RG-63/U
Cp
1/0.643
AB
7.24
RG-63B/U
Cp
1/0.643
AB
7.24
RG-174/U
Cp
7/0.16
A
1.52
RG-213/U
ACu
7/0.752
A
7.24
RG-214/U
AgCu
7/0.752
A
7.24
RG-215/U
TCu
7/0.752
A
7.24
RG-217/U
ZCu
1/2.69
A
9.4
Note:
ACu: Bare Copper
AgCu: Silver-coated copper
AgCu: Tinned Copper
Cp: Copper Clad Steel Conductor
A: Soild PE
AB: Air-spaced PE, PE filament thread within a tube of solid PE
1: Black PVC
2: Non-Contaminating Grey PVC
2a: Non-Contaminating Black PVC
ELECTRICAL PROPERTIES
Type Number
Dielectric Strength
Corona
Impedance
Capacitance
Velocity of propagation
kV(r.m.s)
kV(r.m.s)
Ω
nF/km
%
RG-6/U
7.0
2.7
76±3
65.6
67
RG-7/U
3.0
-
97.5±7.5
41.0
83
RG-8/U
10.0
5.0
52±2
96.8
67
RG-8A/U
10.0
5.0
52±2
96.8
67
RG-10/U
10.0
5.0
52±2
96.8
67
RG-10A/U
10.0
5.0
52±2
96.8
67
RG-11/U
10.0
5.0
75±3
67.3
67
RG-11A/U
10.0
5.0
75±3
67.3
67
RG-12/U
10.0
5.0
75±3
67.3
67
RG-12A/U
10.0
5.0
75±3
67.3
67
RG-17/U
22.0
11.0
52±2
96.8
67
RG-19A/U
30.0
14.0
52±2
96.8
67
RG-58/U
5.0
1.9
53.5±2.5
93.5
67
RG-59/U
7.0
2.3
73±3
68.9
67
RG-59A/U
7.0
2.3
73±3
68.9
67
RG-59B/U
7.0
2.3
75±2
68.9
67
RG-62/U
3.0
-
93
44.3
84
RG-62A/U
3.0
-
93±5
44.3
84
RG-63/U
3.0
-
125
32.8
84
RG-63B/U
3.0
-
125±6
32.8
84
RG-174/U
4.5
1.5
50±2
110
67
RG-213/U
10.0
5.0
50±2
100
67
RG-214/U
10.0
5.0
50±2
100
67
RG-215/U
10.0
5.0
50±2
100
67
RG-217/U
12.0
7.0
50±2
100
67